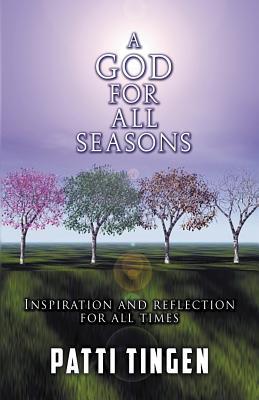 In this multiple award-winning book (Reader's Favorite, Feathered Quill), author Patti Tingen takes readers through the four spiritual "seasons" of our lives, sharing scriptural truths and powerful testimonies of God's unfailing love through it all.
Change is a natural part of life, but for most of us it is a difficult process fraught with fear. Change can be difficult, confusing, and painful- or, as A God For All Seasons explores, it can be an exciting opportunity for spiritual growth as we learn to trust in God through faith in His word.

Writing with poise and grace, Patti shares some of the most challenging, profound, as well as encouraging moments of her life when God made His presence known in remarkable ways to comfort and encourage her and her family.
Readers will be blessed and inspired by the wonderful anecdotes and relevant verses from scripture that will help them see the larger picture of God's love and grace in their own lives, no matter what season they may be going through. A wonderfully uplifting book, perfect for anyone who is hurting or in need of encouragement in their lives, highly recommended!
Rating: 5 stars
I received a free copy of this book from the author in exchange for an honest review.
To read more reviews of this book on Goodreads.com, click HERE
To purchase a copy of this book on Amazon.com, buy HERE

---
From the Author
During a time of reflection, I recognized in a deeper way than ever before, that God was with me in every single situation throughout my life. In every loss, every victory, every tear, and every joy–God was there. Ecclesiastes 3:1 says, "There is a time for everything, a season for every activity under heaven." With new revelation, I understood that we truly have a God for all seasons. Then I thought, "That would make a great book title!"
I pray my readers would find encouragement and hope for their life's travels. I want them to know how much God cares for and loves them.
---
About the author
Patti Tingen is an award-winning inspirational author and speaker, bringing the message that we all have value and purpose. She's excited to have now published her first illustrated children's book!
Patti's book, A God for All Seasons: Inspiration and Reflection for All Times, has won several awards including the 2015 Feathered Quill Book Awards Program Bronze Medal for Best Inspirational, a 2015 New York Book Festival Honorable Mention and the 2014 Readers' Favorite Silver Medal for Christian Non-Fiction.
Patti's hope is that her words of personal experience, humor and testimony will continue to bless and inspire others.
Please visit www.pattitingenauthor.com to learn more.