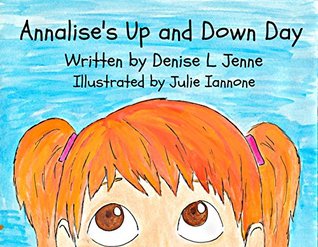 Annalise's Up and Down Day
by

Denise L. Jenne, illustrated by Julie Iannone
This is the story of one day in the life of three-year-old Annalise. It follows her, through her daily activities, adventures and misadventures on one summer day, as she explores the meaning of "up" and "down" in her world.

To get your own copy of Annalise's Up and Down Day on Amazon.com, buy
HERE
---
"…(A) good book to read at bedtime…. Annalise's Up and Down Day is a great book for a preschool aged child. I recommend preschool teachers to have this book in their classroom. The children would love to share their own ups and downs just like Annalise. I hope that Dr. Denise L. Jenne continues to write more books like this because I can see it becoming a series about opposites." — Jessyca Garcia excerpted from Readers' Favorite (ReadersFavorite.com)

"The differences between up and down are more clearly identified when you're a young child than to most adults. This little book gets you going on the right (or left) foot." — Arlo Guthrie (Award-winning children's book author, storyteller and folk singer)

"This is a delightful book, perfect for emerging readers. The repetive words will really help young readers grow." — 5-star review, Goodreads.com

"Pick it up … you can't put it down! … The detailed, colourful, watercolour illustrations visually enhance the concept of "up and down" throughout the entire book. Toddlers will love to spot their own personal expression of the term in their environment and a game can be made out of it." — 5-star review, Amazon.com

"Charming and different … Denise Jenne and Julie Iannone have created a book that will give giggles to three-year-olds and parents alike, with familiar situations looked at through fresh eyes." — 5-star review, Amazon.com
---
Denise L. Jenne obtained her doctorate in Criminal Justice from Rutgers University in 1995. She has taught Sociology and Criminal Justice at state and online universities for almost three decades, and she is a published author in the field. Outside of work, she enjoys music, reading, scrapbooking and time with friends. However, one of her greatest joys is being an aunt to her nephew and nieces — including her great-niece Annalise. This is her first work of children's fiction

.

---
Want to win your very own copy of Annalise's Up and Down Day
?
Author Denise Jenne is offering up a free copy of her book to one lucky reader!
to visit our giveaway page and enter to WIN!
---
To get your own copy of Annalise's Up and Down Day on Amazon.com, buy
HERE