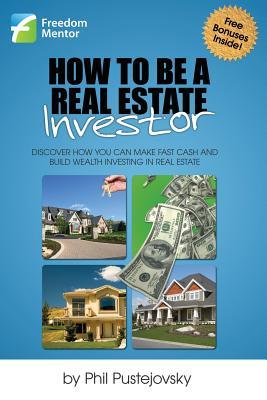 Ever wonder what it takes to become a successful real estate investor?
To the inexperienced, it  can be a risky business fraught with dangers. But for those in the know, real estate can be a quick ticket to financial freedom and security, and it's certainly no coincidence that many self-made millionaires acquire their wealth through real estate investment.

As a young man working at a Fortune 500 company, Pustejovsky quickly tired of the 9-5 grind and determined to make his money in real estate. But without the proper guidance, things quickly hit a wall and he soon found himself homeless. After giving his life to Christ, Pustejovsky met a seasoned real estate investor who became his mentor, showing him the ropes and giving him the tools and knowledge he needed to succeed and achieve his goal of financial freedom. With a new dream of expanding nation-wide, he created a successful mentoring program, after years of crafting a system for teaching others how to become successful real estate investors.

In How To Be A Real Estate Investor, top real estate investor and mentor Phil Pustejovsky shows readers proven ways to get started in and become successful through real estate investment, pointing out commonly-overlooked and largely unknown ways to find lucrative investment properties, as well as how to avoid common pitfalls many inexperienced investors face.
Pustejovsky discusses in-depth the pros and cons of nearly all long- and short-term investment strategies, equipping readers with the necessary information to determine which strategies will work best for their individual situation and goals. A sampling of the topics covered include:

Why become a real estate investor?


How to think like an investor

Real Estate investing 101

Advanced investing tips

as well as invaluable information on building a team of professionals to surround yourself with

As someone with some experience in both short-term rehabbing/flipping and long-term renting, some of the ideas in this book were familiar to me, while most were surprisingly new. I was extremely impressed with the honesty with which the author approaches the varying investment options, discussing not only the good, but also the risks, and how to best protect yourself against them. (Wish I had read this book years ago!)
Real estate is not something you just "do" on a whim; its a serious, eyes-wide-open investment in your future that you need to make sure you are going about correctly, and I feel that this book does an excellent job in putting people in the right frame of mind, as well as equipping them with the proper information, to do just that. I also found the author's continual focus on conducting business in a legal, ethical, and moral way very commendable.
For anyone who has ever wanted to get involved in real estate, this book is a wealth of information designed to help people get started in the industry on the right foot. Highly recommended!

Rating: 5 stars
I received a free copy of this book from the author in exchange for an honest review.
---
To read more reviews of this book on Goodreads, click HERE
To purchase a copy of this book on Amazon, buy HERE
---
About the Author
Phil Pustejovsky is a best selling author, national speaker, accomplished investor and has been recognized as the leading coach and mentor in real estate. His works have been featured in CBS MoneyWatch, Wall Street Journal's MarketWatch and Yahoo! Finance. He frequently shares the stage with other legendary wealth experts such as Robert Kiyosaki, Robert Shemin and Peter Conti. Having been a part of more than 1,000 real estate investments himself, Phil is considered one of the most experienced investors alive. And for nearly a decade, Phil has been guiding everyday people to financial freedom though his innovative real estate investing techniques and strategies. 
Learn more by visiting http://www.philpustejovsky.com/
and http://reach150.com/m/review/30812/phil-pustejovsky-reviews-phil-pustejovsky-miami-beach-ga-real-estate