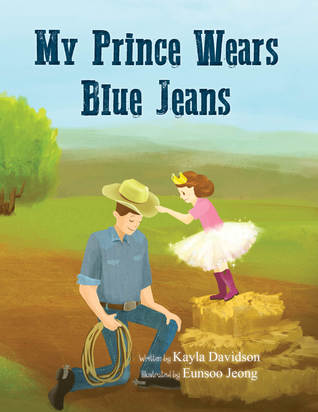 An imaginative little girl compares her devoted and hard-working father and his ranch to a modern-day fairy tale prince and his kingdom.

Richly illustrated with charming, full-color drawings that children will be sure to love, My Prince Wears Blue Jeans is a heartwarming story that portrays the loving bond between father and daughter on a working ranch.
Throughout the story, children will meet a host of barnyard animals and experience all the sights, fun, and responsibilities of ranch life, as they learn to see all the many ways that this little cowgirl's daddy is just like a modern-day storybook prince- a prince that wears blue jeans!
This wonderful children's book is not to be missed- from the heartfelt story to the whimsical illustrations, it is sure to capture the hearts of both children and parents alike. Highly recommended!

Rating: 5 stars

I received a free copy of this book in exchange for an honest review.
---
Add this book to your shelf on Goodreads HERE
To purchase your own copy of My Prince Wears Blue Jeans on Amazon, buy HERE

---
About the author
Kayla Davidson is the author of The Ride and Daddy's Little Squirrel. She graduated from Angelo State University and taught elementary school. Kayla lives on a ranch in Texas with her husband and two daughters. She enjoys reading, gardening, playing the piano, and "helping" her husband on the ranch.
You can learn more about Kayla Davidson and her books by visiting http://www.kayladavidson.com/