As our regular readers and subscribers may have noticed, posts for the blog so far this year have been few and far between. Despite my best efforts to keep the blog up and running, I am sorry to say at this point I must temporarily take a reprieve from reviewing at this time. I apologize for the inconvenience, and do plan to return to blogging as soon as I am able, however for the present time I will be unable to take on any new projects, or to complete any current projects within our usual time frame. I believe I have been in touch with everyone who currently has a book in queue, however if I missed you I sincerely apologize, and can easily be reached by email (epicbookquest@protonmail.com) or here on the blog at any time.
So sorry to do this guys, but I felt that after such a long time without posting I owed everyone an explanation of sorts. Thank you everyone for the understanding, and hopefully I will be able to get back to blogging within the next few months.
-Johanna
"It was that which gave promise that in due time the weights should be lifted from the shoulders of all men, and that all should have an equal chance. This is the sentiment embodied in that Declaration of Independence." – Abraham Lincoln
Wishing all of our readers and subscribers a very blessed and safe Independence day!
A child plants a mustard seed in an empty garden. It is an itty-bitty seed. It isn't anything special- yet.
Based on the parable of the mustard seed, this new children's book by authors Amy-Jill Levine and Sandy Eisenberg Sasso follows the story of two children who plant a mustard seed and await for it to grow. Silly, fun, and engaging, children will be drawn into the story by the colorful illustrations and anticipate, along with the characters, the growth of the marvelous mustard seed. Continue reading "The Marvelous Mustard Seed by Amy-Jill Levine, Sandy Eisenberg Sasso"
Today we take time to honor and celebrate those who gave their lives to preserve the freedoms we too often take for granted.
With the deepest respect, may we always remain thankful.
*     *     *     *     *
Wishing all of our readers and subscribers a very happy Memorial Day!
    *     *     *     *     * Continue reading "This Memorial Day"
An imaginative little girl who loves pots learns important life lessons about trying new things and making new friends…

In this wonderful book, both written and illustrated by Rosilyn Seay, children meet a little girl named May who has a very big imagination. May loves a lot of things, but there's nothing she enjoys more than playing make-believe with her mother's pots! With such a big imagination, the uses she can put them to seem almost endless. Then one day, a new babysitter arrives with different ideas. May isn't so sure about her new ideas, and sneaks off to play with her pots- but will May's imagination get her into trouble?
Continue reading "The Girl Who Loved Pots by Rosilyn Seay"
26 year old Rory Stephens feels trapped… smothered by a life that is being controlled by those around her. Safe choices and predictability define her world, until she can't stand it anymore.
And then she sees it… nestled in among a slew of spam emails in her inbox. Bored of everyday life? Dream of being rich? Famous? So begins an invitation to audition for a new reality TV program called The Retreat, complete with a hefty grand prize to the winner. Sure, it could be a scam, but what if it isn't? Rory decides to do something crazy- the first unpredictable, spontaneous thing she's ever done. She auditions for a reality TV show.
To her great surprise, she's selected as one of eight contestants. But just what she's signed up for remains to be seen, as the details of this new show remain shrouded in mystery- and it doesn't help that the other contestants are a pain. Yet, just when she thinks keeping the peace will be her biggest challenge, the power suddenly goes out on the second day of filming, leaving the contestants completely cut off from the outside world. Could this really be a part of the show, or has something gone horribly wrong?
Determined to find out, Rory knows that she and her companions must work together, but rising tension has everyone at each other's throats. It seems like things couldn't get any worse. And then one of them goes missing….
Continue reading "The Girl On Camera by Morgan Dun-Campbell"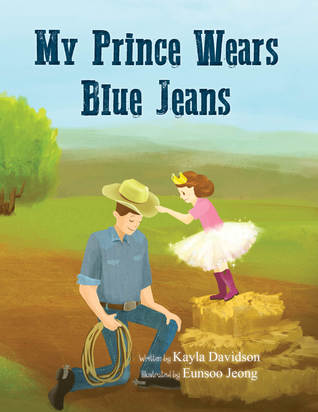 An imaginative little girl compares her devoted and hard-working father and his ranch to a modern-day fairy tale prince and his kingdom.
Continue reading "My Prince Wears Blue Jeans by Kayla Davidson"